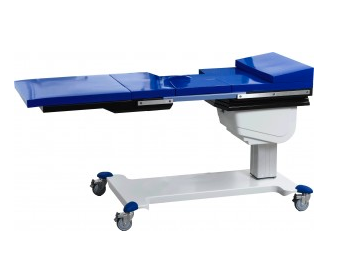 Both E3000TM and EM1000TM generators come standard with your choice of a non-dedicated, 4-axis, multipurpose table. The motorized table has bilateral cutouts to accommodate the shock head for treatment on either side of the patient.
Made of carbon fiber, the tabletop allows for obstruction-free imaging and designed to be used for a variety of endourological procedures. Our table also has a weight capacity of 400 lbs, one of the highest in the industry.
The standard 4-axis table can be upgraded to a 5-axis endourological table to perform procedures that are more complex. Medispec's 5-axis table is designed to optimize urological procedures as well as a variety of other specialties. The hand held remote control and foot pedals in combination with its 500 lbs weight capacity make positioning the patient for treatment effortless.
Both tables come complete with standard surgical side rails, and a variety of table accessories, including drain bag holders, leg stirrups and arm boards.