Orthospec
Extracorporeal Shock Wave Therapy for Plantar Fasciitis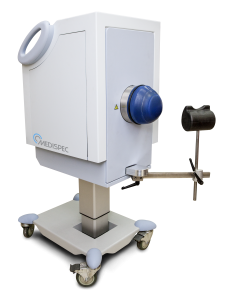 For over a decade, Extracorporeal Shock Wave Therapy (ESWT) has been known to be an extremely effective therapeutic approach when treating plantar fasciitis. The Orthospec delivers non-invasive shock waves to the heel tissue quickly and painlessly. The procedure is indicated for the treatment of proximal plantar fasciitis in patients with or without heel spurs.
As one of the first devices approved by the FDA with validated clinical studies showing efficacy rate of 89%, the Orthospec delivers high energy, focused shock waves to the affected areas, which result in deeper tissue penetration and faster recovery. This device uses spark gap technology and incorporates both adjustable energy levels and large therapy zone to create the most effective HIGH ENERGY ESWT device. The Orthospec treatment lasts only 25 minutes and the recovery is much faster than surgery, providing an earlier return to your daily routine.
Highlights
Single Treatment Protocol
No imaging required
Efficacy rate: 89%
Straight forward positioning
Procedure can be performed in an office setting
Largest therapy zone in the industry
Compact and lightweight, easy to maneuver
Cost effective
>> Download the Orthospec Brochure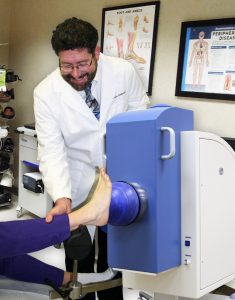 Using Shock Waves for Heel Pain
A true Shock Wave delivers focused shock waves, therefore does not propagate. With a deeper penetration, a single session treatment is required. The shock wave essentially creates a micro trauma and initiates a healing response by the body. This stimulates the healing process relieving the symptoms of heel pain.
What will it accomplish?
Clinical Studies demonstrate that the Orthospec™ is a safe and effective tool in treating pain caused by Proximal Plantar Fasciitis. The double-blind study demonstrates clinical success to be unbiased and encouraging. After the exhaustion of conservative means, surgical plantar fasciotomy was the practitioners' choice treatment for the reduction of heel pain. Extracorporeal Shock Wave Therapy using the Orthospec™ device offers the patient a more safe and viable option prior to surgical intervention.
Cost Efficiency
ESWT can be a costly form of treatment for self-pay patients and Medispec understands the challenges that both physicians and patients face. Whether you wish to own, rent, or lease, we offer a variety of creative business solutions based on your case volume and specific needs. Our diverse programs will give you the opportunity to offer affordable ESWT treatments while increasing patient volume.
*We are currently offering the OrthospecTM at a Special New Price unheard-of in the Orthopedic industry. Contact us  for more information.*